STORY TELLING
Please click on a bulleted heading to toggle the content.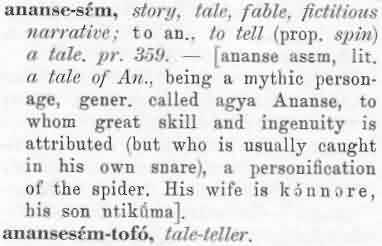 source: Christaller
===================================================================

Asihene, Emmanuel V. TRADITIONAL FOLK-TALES OF GHANA http://www.mellenpress.com/html/asihtrad.html
Brown, E.J.P, Gold Coast and Asianti Reader, London, 1929.

BOOK I. PART 1. MFANTSI-AKAN TALES.
1. ANANSI-SEM AND NYANKU-SEM

1. Anansisem were formerly known as Nyankusem or Dadasem. Anansi desired to buy them of Nyankupon, and the latter told him that as the purchase price he should capture

(1) Mbrokotobia (kind of Bees);
(2) Nduwa (Bees);
(3) Abuwatsia (Ape);
(4) Saman (Ghost),
(5) Sibo (Leopard);
(6) Inyin (Python).

These were all ferocious and dangerous creatures to procure; but Anansi determined to secure them by his usual cunning and deceit.

2. The Mbrokotobia are harmless so long as one passing by or under their hive speaks loud enough, for silence suggests a furtive object, and they are very soon on the war path to attack the enemy. Anansi procured a bag and, going under the hive of the Mbrokotobia, spoke aloud to show that he was no enemy; at the same time he cleverly passed his open bag over the hive and quickly tied it up with a string, and carried them to Nyankupon, who marvelled at his tact. Now, in order to keep these creatures, Nyankupon caused a large menagerie to be erected, which was entered from the top, and into which Anansi dropped the bag containing the Mbrokotobia.

3. Anansi next set out to entrap the bees. He procured a large ahina (an earthen pot), into which he poured a quantity of sweet palm-wine, and placed it near a bee-hive in the forest. Presently the surface of the sweet beverage swarmed with bees, and Anansi, issuing forth from his hiding place, quickly covered the mouth of the ahina with a piece of kyenkyen (bark cloth), tied it up, and carried it to Nyankupon.

4. He went to secure the ape, for which purpose he carried a large sack slung over one shoulder. After roaming for a long while in the forest, he came across an ape which was just issuing out of his haunt.

Anansi, on seeing the ape, began to mutter to himself as follows: "He will go inside all right."

"No, he won't; yes, I say it will take him in all right."

"No, it couldn't!"

"What is it, Anansi, you are talking about?" queried the ape.

5. "Ah, there you are, my good friend. Nyankupon had been arguing with me that this sack would take you in all right and I said it couldn't hold you."

"Why, this is a very simple matter, for I can well see that this sack is large enough to hold me in," said the ape.

"I thank you, good friend," replied Anansi; "now, do you mind my having a try with you in the sack before I demonstrate it to Nyankupon?"

"Not in the least," answered the ape. "I am much obliged to you," said Anansi.

6. Anansi laid the sack on the ground and opened the mouth, into which the ape dived.

Anansi said to the ape, "I must now make the sack stand on the ground to see whether you are quite free in it."

He lifted the sack, the mouth of which he quickly closed and tied with a string. The ape asked Anansi to release him. "Keep quiet, old chap; I must carry you as you are, to prove to Nyankupon that you are even much too small for it."

"But I did not bargain with you for that!" said the ape.

"I cannot help it - I must take you to Nyankupon as I have said," and without further waste of words, Anansi took his burden to Nyankupon.

7. Anansi's next task, more hazardous than the three previous ones, was to secure Saman, and this brought into full play all the ingenuity of his strategic skill. He procured a sheep and went to Asamampowm' (burial grove). Seating himself on a piece of stone, he announced in a loud voice to the peaceful dead that he had just returned from a long travel round the world, to offer them the usual sacrifice, and that they should come out of theirgraves to partake of the sacrificial sheep which he had brought with him for them.

8. One ghost came up and sat on another stone near Anansi. Anansi arose and slaughtered the sheep, put the meat and blood into the bag and, holding it up with the mouth wide open asked the ghost to get inside and feast on the slaughtered sheep. The ghost obeyed and went into the sack, but Anansi quickly tied up the mouth of the bag with a string, and took it to Nyankupon.

9. The next creature to be captured was the leopard. After a weary quest, Anansi came upon the lair of a leopardess which was watching by the side of her cub. Anansi procured a sheep which he tied to the trunk of a tree at some considerable distance from the lair, and holding a large sack in his hand, hid himself behind a large tree. As the leopardess pounced upon the sheep and was busy devouring it, Anansi quickly came out of his hiding place, and miraculously passed the open sack over her. After a hard struggle he secured her a close prisoner in the sack, and took her to Nyankupon.

2. PROVERB.

MBAN-DUA - THE HERRING STICK.

Mban-dua (herring stick) - 'Mi na muhu yew' de: I am easily attacked because I am weak."

N.B. The mban-dua, i.e. the palm midrib or petiole, is pierced through the fresh herring as a support for laying it on the oven rafts and smoking it on the fire. The Coward attacks the innocent bystander instead of the powerful aggressor.

3. ANANSI-SEM AND NYANKU-SEM - II.

1. The last instalment of the purchase price was the python. Anansi provided himself with a long pole, which he carried on his shoulder, seeking every nook and corner of the forest for this huge reptile. At last he came to a small mound on which was a python basking itself in the sun.

Anansi began talking loudly to himself as follows: "He would be about the same length as this pole;"

"No, he couldn't be;"

"Yes, I say he would be."

The python, overhearing Anansi's soliloquy, called out to him "What's up, Anansi?"

"Oh, nothing much," answered Anansi. "It's like this: Nyankupon had been arguing with me that this pole was not of your entire length, and I argued the contrary."

"Well, if that be the case I am prepared to oblige you by allowing you to measure my whole length with your pole," said the python.

2. "Very kind of you," replied Anansi. "Would you mind straightening out yourself?"

The python stretched out his whole length and lay close to the pole.

Anansi passed a rope round the python to the pole, and the latter ejaculated in surprise, "Hallo, Anansi, what are you after?"

"Why it's only to keep you close to the pole - O, don't be nervous, old chap!"

The python acquiesced, and Anansi went on gently passing the rope round him. On getting to the head Anansi suddenly tightened the rope and lashed the unsuspecting python's head to the pole. The poor python was helpless, and Anansi carried him to Nyankupon.

3. Having completed the last instalment of the purchase price of Nyanku-sem, Anansi now demanded of Nyankupon confirmation of his undisputed title to them. Nyankupon addressed Anansi as follows:

"I congratulate you on your successful efforts to purchase Nyanku-sem, which I now make over to you. Henceforth they shall be known as Anansisem, and you can diffuse them widely among the nations of the world for their edification."
Christaller, J. G., compiler. THREE THOUSAND SIX HUNDRED GHANIAN PROVERBS (FROM THE ASANTE AND FANTE LANGUAGE) Translated by Kofi Ron Lange Lange, Kofi Ron

A wealth of proverbs from the Twi-speaking people of Ghana, collected by Rev. J. G. Christaller circa 1879 and translated for the first time into English by Fr. Kofi Ron Lange, S.V.D.

[Studies in African Literature No. 2] 0-88946-234-8 $99.95/£59.95 323pp. 1990 http://www.mellenpress.com/html/chrithre.html

Kolawole, Mary E. Modupe, An African View of Transatlantic Slavery and the Role of Oral Testimony in Creating a New Legacy (in Tibbles, Anthony (ed.), Transatlantic Slavery: Against Human Dignity, HMSO, 1994)

108 Women used oral as well as written poems, songs, folk-tales, proverbs, anecdotes, parables and fables to transpose African culture to the new world as well as relive their African experience.

Owusu-Sarpong, Christiane (ed.) Trilingual Anthology of Akan Folktales, University of Science and Technology, Kumasi, Ghana, 1998 (Twi, English, French)
Rattray R S (collected and translated) Akan-Ashanti folk tales Oxford 1930 (notes)

viii Slavery . . . both as an indigenous institution and much later in the degraded form it took under the impetus of trade with the Europeans, was a very important factor in the dissemination of folk tales . . . I believe that when a study comes to be made of the Folk lore of the northern tribes of the hinterland of the Gold Coast, tales very similar . . . will then be recorded.

x These tales are only permitted to be told after dark. Story teller starts by disclaiming that his story is true 'We don't really mean to say so.' During story telling, actors may enter the circle and give impersonations of various characters (old woman dressed in rags and covered in sores, leper, priest with an attendant carrying the shrine of his god, accouchement with midwives, adjuring patient to confess with whom she committed adultery, lest she should die, a case of theft.) Realistic, clever, calls forth roars of laughter.

xi Licensed public criticism, objects not named (e.g. ohene [king] = nyame [god]) Storyteller protected by disclaiming truth of his story.

Ross, Doran H., More than meets the eye: Elephant memories amongst the Akan (in Doran H Ross (ed) Elephant: the Animal and its Ivory in African Culture) U of California Los Angeles 1992

139 A wonderful folktale collected by Rattray makes a strong connection between the presence of hunters with guns and the disappearance of the elephant from the forests. Titled by Rattray "How the elephants came to go off to the long-grass country," the story begins with a head-butting contest between Ananse the spider (the trickster in Asante folklore) and the elephant. Through a series of deceptions the spider wins the contest and kills the elephant. When the elephant's family insists that Ananse bury their relative in a massive rock, the spider carves a wooden man with a gun, which frightens the elephants to flee to the long-grass country. The spider then eats the dead elephant. Aside from celebrating Ananse's wisdom and cleverness, the tale clearly casts the musket-armed hunter as the precipitating force in the disappearance of elephants from the forest.

Elephant hunting in Asante required certain ritual prescriptions. Rattray documented an obligatory hunter's dance called the "elephant's funeral" which was performed to appease the spirit of an elephant killed in the hunt.
St. John-Parsons, Donald, Legends of Northern Ghana and More Legends of Northern Ghana, Longmans, 1960
Stephen Belcher's selection of African Literature for Schools

Date: Wednesday, January 27, 1999 9:48 PM
Subject: Re: Query: African Literature for Schools

This is a field that needs fresh work, and I'm sure opinions will vary on the value of different collections. So here are my nominations:

A. One of the better general collections of folktales available is that of Paul Radin, African Folktales (the original version of this book included artwork, but the paperback just gives stories; the artwork connection would be worth pursuing).

B. Harold Courlander's _A Treasury of African Folklore_,issued in 1975 and reprinted recently offers a good sampling of traditions available in a variety of forms, concentrating on Anglophone sources.

C. M & F Herskovits, Dahomeyan Narrative (1958) is probably the best collection for a single group, although a number of the texts in the Oxford Library of African Literature would offer good competition (e.g. John Mbiti's Akamba Stories, Ruth Finnegan's Limba Stories and Story-Telling).

D. Besides the Roger Abrahams title cited, there's William Bascom's African Folktales in the New World (Indiana UP, 1992) for folklore in the diaspora.

Mythology is more of a problem, and there's room for new collections out there.

Most of the available epic material has been printed in French, but let me cite Oral Epics from Africa (Indiana UP) which John Johnson,Tom Hale, and I edited in the hopes of filling a need.

good reading,

stephen belcher

Titles added later:

Harold Scheub, *the African Storyteller*, Kendall Hunt 1990 (really intended as a classroom textbook)

Harold Scheub, *A Dictionary of African Mythology,* Oxford University Press 2000. The format of this material is sometimes awkward (one has to go through indexes to identify stories from the same culture, as the stories are listed alphabetically by main character or original published title), but this is one of the more thorough treatments now available.