CAPE COAST AND THE BRITISH
Please click on the bulleted headings to toggle text.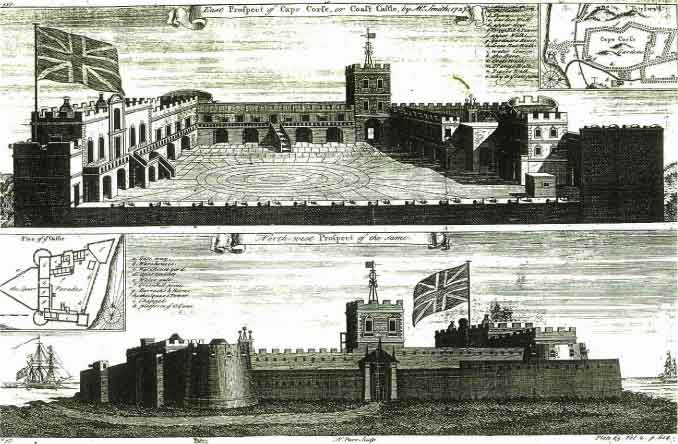 Anquandah, Kwesi J, Castles and Forts of Ghana, Ghana Museums & Monuments Board/Atalante, undated: 2000? (with fine photographs by Thierry Secretan)
Ghana Museums and Monuments Board, P O Box 3343, Accra, Ghana
Atalante/Paris, 42 Rue Sedaine, 75011, Paris, France e-mail atalant@calva.net

The cover picture is of Cape Coast Castle from the sea.
OTHER REFERENCES
Amissah, G. McLean, Cape Coast in Historical Perspective, self-published? 1994

Anstey, Roger. The Atlantic slave trade and British abolition, 1760-1810. Atlantic Highlands, N.J.: Humanities Press, 1975.
Anstey, Roger. Liverpool, the African slave trade, and abolition: essays to illustrate current knowledge and research. Historic Society of Lancashire and Cheshire. Occasional series, 2. Enl. ed. [Liverpool]: Historic Society of Lancashire and Cheshire, 1989.

Bean, Richard Nelson. The British trans-Atlantic slave trade, 1650-1775. Dissertations in American economic history. New York: Arno Press, 1975, c1971.

Brooks, George E, The letter book of Capt Edward Harrington, Tr. Hist Soc of Ghana, Vol. ??
Brukum, N. J. K., African European Relations on the Gold Coast 1791-1844 (thesis)
Craton, Michael. Sinews of empire; a short history of British slavery. [1st ed.]. Garden City, N.Y., Anchor Press, 1974.
Curtin, P.I., The Image of Africa Madison: British Ideas and Action 1780-1850

Davies, K G, The Royal African Company London 1957
Hyland, A. D. C., The Architectural History of Cape Coast Tr. Hist. Soc. of Ghana, Vol. XVI, 2, New series no.1 1995

Lewis, Roy and Yvonne Foy, The British in Africa, London 1971.

Martin, E. C., The British West African Settlements, 1750 -1821, London 1927
Palmer, Colin A.. Human cargoes: the British slave trade to Spanish America, 1700-1739. Blacks in the New World. Urbana: University of Illinois Press, c1981.

Priestly, Margaret, West African Trade and Coast Society, OUP 1969

Tenkorang S British slave trading activities MA Thesis 1964 Senate House Library London

Walvin, James. Slaves and slavery: the British colonial experience. Manchester [England]; New York: Manchester University Press; New York: Distributed exclusively in the USA and Canada by St. Martin's Press, c1992.

Walvin, James. England, slaves, and freedom, 1776-1838. Jackson: University Press of Mississippi, 1986.

LINKS

The Cape Coast Archive
Media Collection (database of images in .jpg and .mov format), Panoramic Images (.mov) and the beginnings of an Architectural Inventory. From The University of Virginia and US/ICOMOS.
url: hitchcock.itc.virginia.edu/CapeCoastArchive/

Cape Coast Images
Collection of photographs. From The University of Virginia.
url: hitchcock.itc.virginia.edu/CapeCoastArchive/galler....

Historic Cape Coast Site Analysis for Integrated Planning
Paper about sensitive and sustainable site development in Cape Coast to help the local economy through tourism. Photographs plus hightech imagery. From the US/ICOMOS Cultural Site Analysis Initiative.
url: www.esri.com/library/userconf/proc99/proceed/paper....